Joseph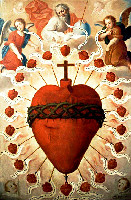 Offline



Joined: 16 Oct 2017
Posts: 222

Posted: Wed 24 Oct - 10:04 (2018)

 

   Post subject: Mgr Fellay recommande aux fidèles d'écouter Mgr Williamson

---

Dans un entretien donné aux États Unis, Mgr Fellay conseille aux fidèles de lire des bons livres et d'étudier les encycliques des papes .

https://fsspx.news/en/news-events/news/bishop-fellay-interview-looking-back…



Quote:
They need to learn. They need to read the good books, the good encyclicals, the good catechism. Into the 50's, everything was fine. You can really go to any encyclical before the 60's and you will be safe. You will find nourishment and you need that. But once again, you need to learn, and then you need to practice.





Quote:
Ils ont besoin d'apprendre. Ils ont besoin de lire les bons livres, les bonnes encycliques, le bon catéchisme. Dans les années 50, tout allait bien. Vous pouvez vraiment aller à n'importe quelle encyclique avant les années 60 et vous serez en sécurité. Vous trouverez de la nourriture et vous en avez besoin. Mais encore une fois, vous devez apprendre, puis vous devez pratiquer.



Le seul évêque qui fasse réellement découvrir actuellement les encycliques aux fidèles est ... Mgr Williamson.

Les autres baratinent, brodent sans fin sur des sujets stériles et endorment les fidèles dans le ralliement pratique.